By Bria Jackson 
Staff Writer - The Boom Bap Hour Uncut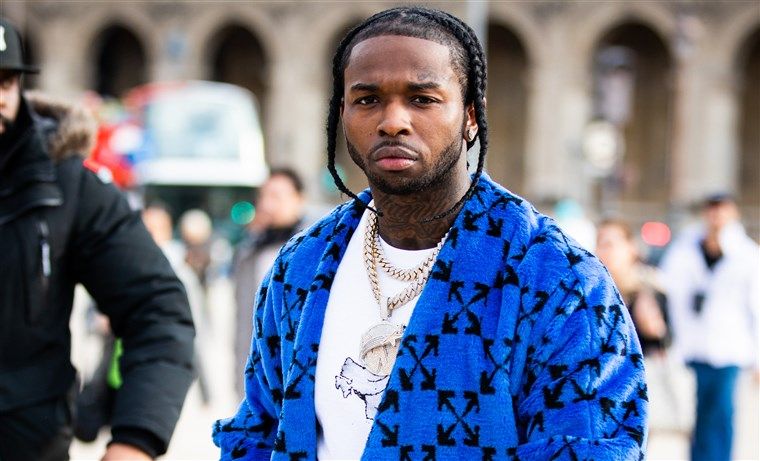 Just yesterday everyone learned that upcoming rapper, Bashar Barakah Jackson, or Pop Smoke to most, died from being shot during a home robbery. What was even more shocking was that a lot of us were just finding out who Pop Smoke even was. I know I just learned of him last week. He was twenty years old from Brooklyn, New York. I kept hearing his song Dior, thinking it was Desiigner because of how deep and unique his voice was but I learned quickly they were two different people.  
I've been trying to avoid social media lately because of Kobe and Gianna, then there was Ja'Net Dubois and Esther Scott (two phenomenal women many of us grew up watching) and there was also Fort Valley State University student, Anitra Gunn, who's body was found after she went missing on Valentine's Day. I've been blessed at 24 years old have not had to deal with any death super close to me, so it's not something I typically think about. So in addition to not being used to that, I really couldn't handle getting on social media as much these past few days, or at least not Twitter. 
One of the few times I did end up getting on social media, I noticed people on Instagram were beginning to play detective to what happened to Pop Smoke. What everyone knew so far was that some guys had found out where he lived. Before I continue any further, I want to make the topic of my article very clear. I am not a journalist telling the story of how Pop Smoke really died or what I think happened. Whether the facts that I know are true or not, I want to talk about how important it is to watch what information we are putting on the internet. 
To proceed, social media initially blamed Pop Smoke's long-time friend, Mike Dee, for setting him up because he posted a picture that had part of the street number in the picture. The world can be so critical and cruel these days. Too many times do we jump and give unsolicited opinions without knowing all the facts. I knew people were in this man's comments being nasty. I mean, telling someone who just lost their best friend that they were the ones to set them up? It's so cruel it's not even funny. It's sick. 
As more facts start unraveling, I think everyone came to the conclusion Pop Smoke may have accidentally put his own self in harm's way because of what he was posting on his story. What rapper isn't out here posting their nice watches and stacks? Well, that's exactly what he did as well and in one video where Pop Smoke is seen showing off what seems to be a bag, you can see a luggage tag that had his address on it. It can be assumed that this may be how the robbers got his exact address. 
We need to be careful about what we're posting on the internet because we never know who is watching and we never know who is secretly envious. The world is not the safest place anymore, in my opinion. After a traumatizing incident I had with a guy once, I've learned to not even put my location on my stories/posts if I'm somewhere specific. I don't let my followers know what I'm up to. There are some people that I don't even let follow me; I will just go ahead and block them. I don't do these things for any other reason except to keep my business private. People see you doing good and start feeling green instead of being happy that someone else from our community made it. I don't think anybody should be trying to play "creator" and decide the fate of someone's life. The universe doesn't sweep actions like that under the rug. What amazes me is that people are willing to risk their entire freedom on a simple chance…the chance of possibly living off of what they robbed him for, for who knows how long, a few weeks? Months maybe? It'll never be worth it. 
Nicki Minaj said it best in her caption as she sent her condolences to Pop Smoke, "The Bible tells us that jealousy is as cruel as the grave" and I don't think there is a truer statement. I encourage everyone to stop putting locations on their every move, as in not putting every single restaurant you've gone to in a day. You're literally leaving a trail for someone. Snapchat allows you to share your location or go ghost mode. The other day, my cousin asked me why was I ghost and I told her that Snapchat shows the exact location down to the street. For what purpose do my followers need that information? Even on Twitter, some people tweet with their location on and it will show what city; I keep all of that information turned off. Do not hesitate to block people that look fishy or have 0 mutual followers with you. I had to get onto one of my other cousins the other day because she always puts something like "Work the next 3 days *eye-rolling emoji*" on her story and I told her to stop because she doesn't know who is watching her stories and picking up on her work schedule. And last but most importantly, keep social media out of your pockets!!! I can't stress this enough. 
I understand social media has gotten to a point where we feel the need to constantly post our accomplishments and flaunt our newest purchases, but the point is, you can never be too safe because this world is a sick and evil place. It is completely okay to be private with your life. Pop Smoke didn't do anything wrong but post on his story as we all do. I hope this is a message to remind everyone to pay more attention to the things we post and share on the internet. 
Rest in Peace.