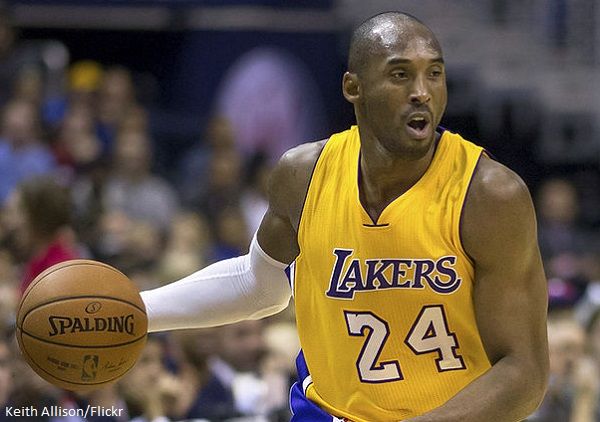 By Jason Callahan 
Staff Writer - The Boom Bap Hour Uncut 
During the late eighties and nineties, very few professional athletes had an impact on society for the betterment of people. Among these athletes are; Michael Jordan, Steve Young, Joe Montana, Magic Johnson, and Kobe Bryant to name a few. I did watch Kobe play some games and his intensity for the game seems to come from the pure love of the game. Kobe was very talented and seemed very passionate about basketball.  
 Watching Kobe play was a treat to many folks. I would place him up there with Michael Jordan, Magic Johnson, Kareem Abdul-Jabbar, Larry Bird, and Shaquille O'Neal. To me, these are the guys that stand out and make the biggest impact on and off of the court. After Kobe retired the 2015-2016 season, he still made sure to keep a level head on his shoulders and be the stand-up guy many enjoyed.  
 Kobe Bryant was a family man, a superstar on and off of the court, and someone people could look up to at any time. Some professional athletes are not in the game for any other reason than the money. They seem to not enjoy the game, the fans, or even their co-workers. I am sure that even the ones we look up to have had a run-in or two with others and have even done these things themselves. The difference is they have chosen to learn and move forward. Kobe I believe, was definitely one of those that wanted to learn and did learn.  
 Kobe knew that he wanted to play basketball and knew that he was as good as he thought. If you go into anything and believe that you can accomplish great things, you can and you will. If you go into anything thinking that you will fail you will. The biggest key to success is knowing that if you fail, to get your ass up and not give in to the voice that tells you that you need to give up. We all fail, we all have doubt, it is how we choose to conquer or to give in, that makes us a success or quitter.  
 Though Kobe and his daughter have left this earth and moved on, we have the memories that will carry us onward. We remember the good times, and the way Kobe chose to hold himself to a high standard. We remember his accomplishments, achievements, and the inspiration he gave to us while he was among us. The tragedy of Kobe and his daughter's passing was too soon. However, let us remember the other 7 people on the helicopter with Kobe and his daughter. That truly is a tragedy for those that lost them. Losing someone is hard and can have a very bad effect on us - to have our soulmate and child with us one day and gone the next. Love knows no boundaries, but the loss of a love can shake your whole world to the very core and be long-lasting.  
 For myself, this brought forth the memory of losing my spouse. I spoke to her that morning and that afternoon, she was in a fatal auto accident. My heart sank, my life seemed to stop, and I did not know what to do, what I wanted, or even if I could survive. Well, three years later I am still standing and moving forward. Yes, I remember her, the times we shared and the memories we made. It still hurts and it still sucks. The best we can do for us all is to remember how Kobe Bryant gave us someone to watch and enjoy - that loved the game and loved life. Though he may be gone, the memories will never leave us. May Kobe Bryant, his daughter, and those seven others that lost their lives be in Heaven, praising the Lord our God. May we place our differences aside and come together, and pray for the families of those who have lost someone.  
To Kobe Bryant, remembering how you have inspired me to believe in myself - thank you for all you have done and accomplished while on this earth. We shall remember the good times you gave us.